The Chongqing Garden of Beijing Expo 2019 is themed on "Mountain City with Green Mountains and Clear Rivers, and Rural Park Full of Uphills and Downhills."
2018-08-30
The Chongqing Garden of Beijing Expo 2019 is themed on "Mountain City with Green Mountains and Clear Rivers, and Rural Park Full of Uphills and Downhills." Its spatial design focuses on displaying Chongqing's unique trait that combines "mountainous and riverfront cityscapes" and integrates "nature and home," with an emphasis on showcasing its Bayu landscapes with distinct geographical and cultural indications, its pastoral ecological environment featuring horticultural innovations and advocating green lifestyles, and its modern human habitations boasting creative architectural techniques and the concept of beautiful home. The garden also fully manifests Chongqing's singular geographical conditions that integrate landscapes of both a mountain city and a river city, which feature both metropolitan and rural environments encircled by mountains and rivers and enriched by streams and gorges, as well as its ambitious vision to build the city into a "beautiful land with forested mountains and clear rivers." The entire garden consists of three functional zones: Chongqing Impression Zone, Forest, Farmland, Lake and Meadow Ecological Exhibition Zone, and Beautiful Home Demonstration Zone.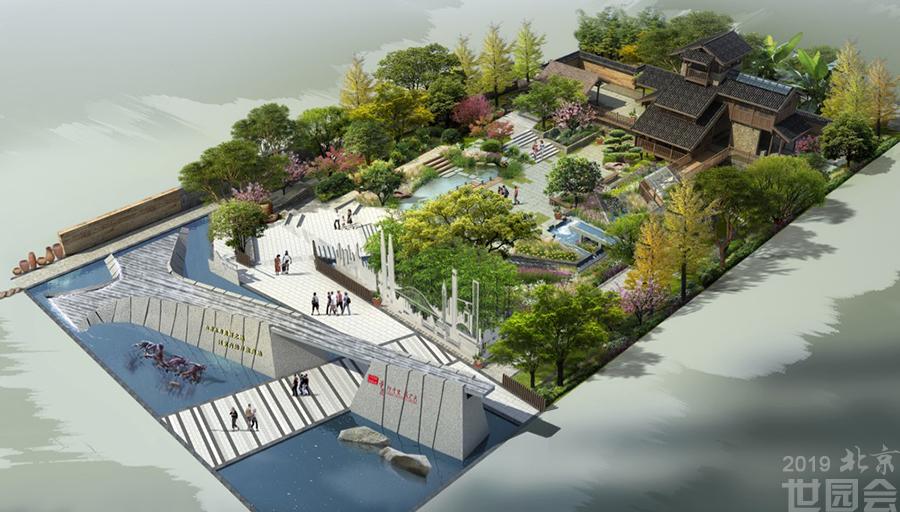 Chongqing Impression Zone
The entrance to this zone is inspired by the Qutang Gorge, where mountains, gorges and rivers set off each other, showcasing an imposing impression on Chongqing's magnificent landscapes and its regional cultural identity. Chongqing's prosperity is attributed to rivers. The Yangtze and Jialing rivers fostered the picturesque landscapes of Chongqing. Mountains bestow magnificence on Chongqing, making it become lofty and have a sense of layers; Rivers foster the elegance of Chongqing, making it become gracefully soft and gain a sense of dynamics. Indeed, running streams add dynamics to Chongqing, enriching its vitality and charm. Chongqing was born to be affectionate to rivers. The Impression on Kuimen, statues of boat trackers and the hilltop with a design modeling after the convergence of the two rivers, as well as three-dimensional traffic design, demonstrate Chongqing people's aspiration for a stereo-city and riverside life.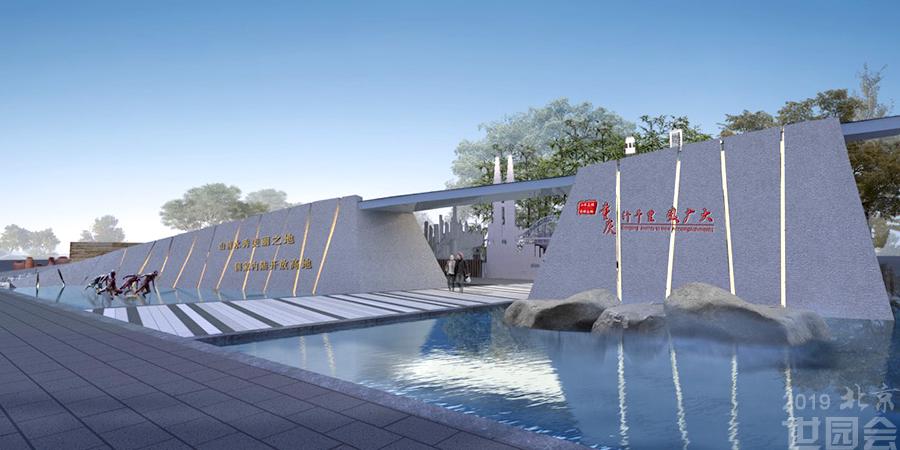 Forest, Farmland, Lake and Meadow Ecological Exhibition Zone
With a rural terraced field as the backbone, this zone creates an ecosystem in which forests, terraced fields, waters and natural vegetation coexist in harmony. Based on the biological and ecological characteristics and the opening time of the zone, architects adopt crops as new elements for landscaping and introduce an operating idea of quasi-natural ecosystem. Moreover, evergreen and flowering trees of northern subtropical climate zone such as Robinia pseudoacacia and Schima superba are planted across the zone, dotted by smoke trees and camellias. The zone also introduces the ecological environment testing technology and rainwater collection system, comprehensively displaying the ecological community of Chongqing.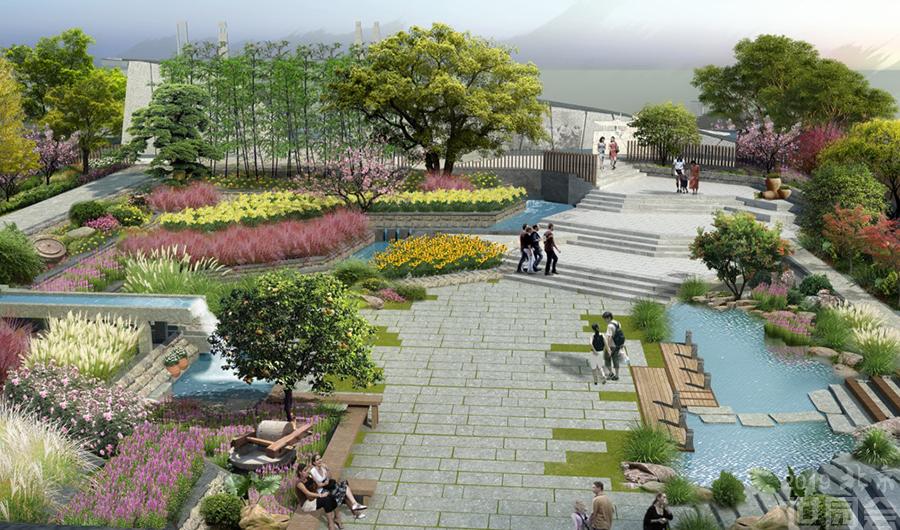 Beautiful Home Demonstration Zone
With the Bayu Rural Park as the core, in a picturesque environment comprised of forests, farmland, lakes and meadows, this zone features innovative rural horticulture with countryside material and traditional techniques as the basis while integrating modern expressive methods, presenting a picture of the beautiful home that Chongqing intends to build in the process of achieving rural revitalization and ecological civilization. Through the utilization of rural material and traditional techniques, architects use modern aesthetics to create a Chongqing-style beautiful home in a time when China is promoting the rural revitalization initiative. Structures in the zone adopt distinctive elements of traditional residences in Chongqing, such as sloped roofs covered with black scaled tiles, small courtyards, wooden balconies and garbled roofs, which are stilted on the hillside and pay attention to architectural details. To this end, architects utilize the old bricks, tiles, stone slabs and stone basins they collected, and adopt new materials and technologies in fields like architecture, small landscape designs, water systems, irrigation, and lighting. Moreover, through perfectly integrating elements such as indigenous rural landscapes, pepper plants, farming tools, and hotpot stoves, this zone present a good example for beautiful home of Chongqing suited for modern human habitation.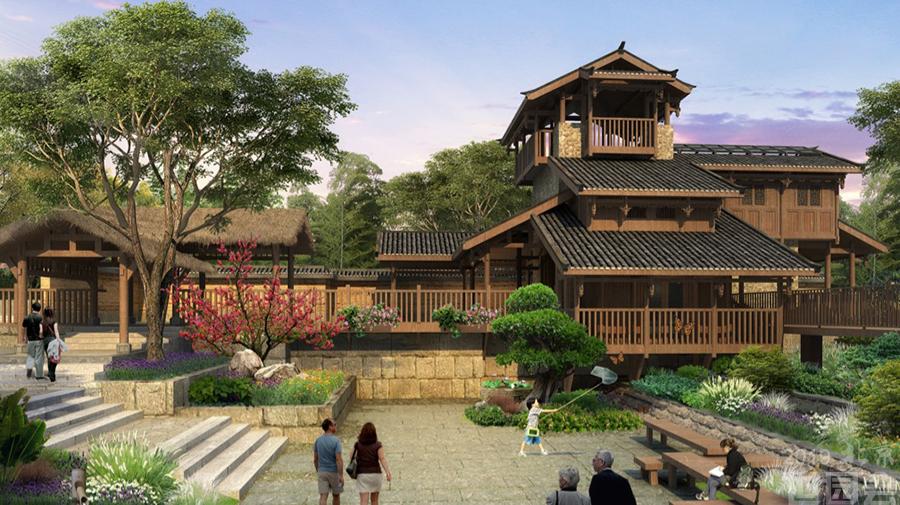 Chongqing has long been noted for "evening rain in Bashan Mountains." With an aim to create a poetic atmosphere that "after a night of wind and showers, how many are the fallen flowers," vegetation design borrows and intimates typical mountainous floral landscapes of Chongqing that feature natural valleys, streams, and crop fields. Trees on the upper layer tower skywards, and plants on the lower layer stretches into water. Architects use the variations of plants in different seasons to create mountainous garden landscapes with multiple dimensions, directions and layers, which change as visitors walk deeper into the zone, generating an enchanting ambience like "pearls, small and big, falling onto a jade plate." Plant landscaping mainly involve tall trees like gingkoes, Chinese scholar trees, and Shangtung maples, dotted by mountainous plants such as crape myrtles, pomegranate bushes, pomegranate trees, and red maples at important points or visual centers. Such a design showcases the formal beauty of individual plants and floral communities on undulant land of hills. Vegetation design is highlighted by the utilization of multi-colored flowering plants, demonstrating the natural, wild beauty of mountainous views. In addition, themed on crops and oranges growing in terraced fields, this zone showcases the Bayu landscapes with Chongqing's distinctive geographical and cultural identity, as well as its pastoral ecological environment featuring horticultural innovations and advocating green lifestyles.