Jingcai Future Garden is a landscaping masterpiece that integrates the three highlights of large-size color-leaved plants, container seedlings, and the concept of Sponge City, for which Jingcai Yanyuan Gardening Technology Co., Ltd. invested five million yuan. 

Despite its limited space, every part of the garden is an embodiment of innovation, scientific and technological progress, ecological friendliness and environmental protection. Its three highlights and integrated design ideas demonstrate Jingcai Yanyuan's efforts in exploring future modern gardening and landscaping.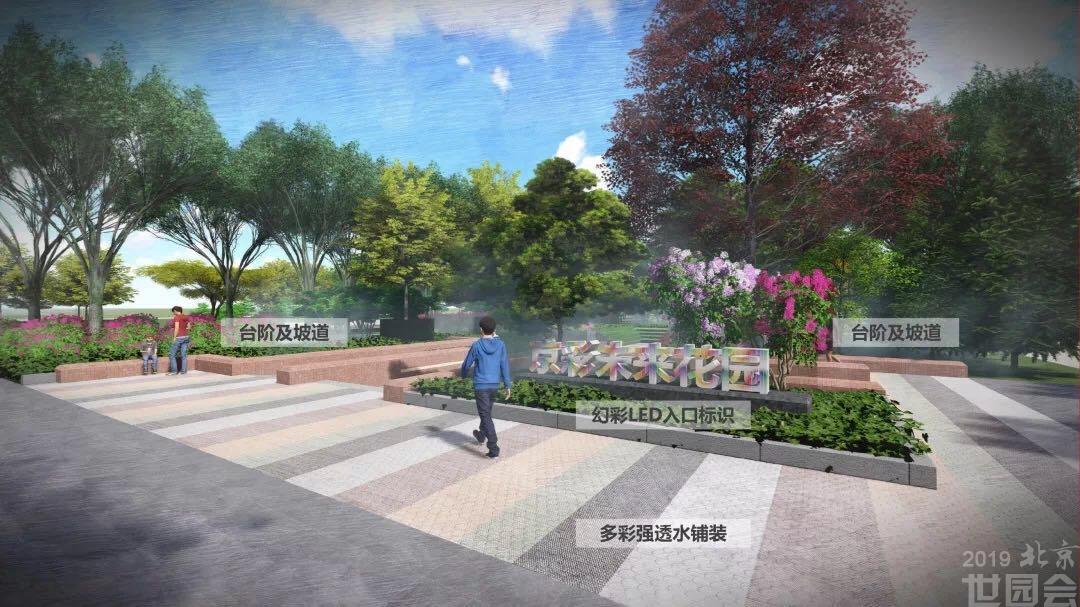 Jingcai Future Garden, located in Lot D14 of the exhibition area for corporate gardens, features a north-south layout, with its main entrance embracing tourist inflows from the south. 
The garden showcases the concept of Sponge City and adopts a sunken design. Mainly constructed with new-type environmentally friendly and permeable materials, it aims to create a demonstration zone for rainwater collection and utilization. 
The garden highlights Jingcai Yanyuan's advantages in large-size color-leaved container seedlings, with an aim to "build a colorful and future-oriented gardening and landscaping masterpiece."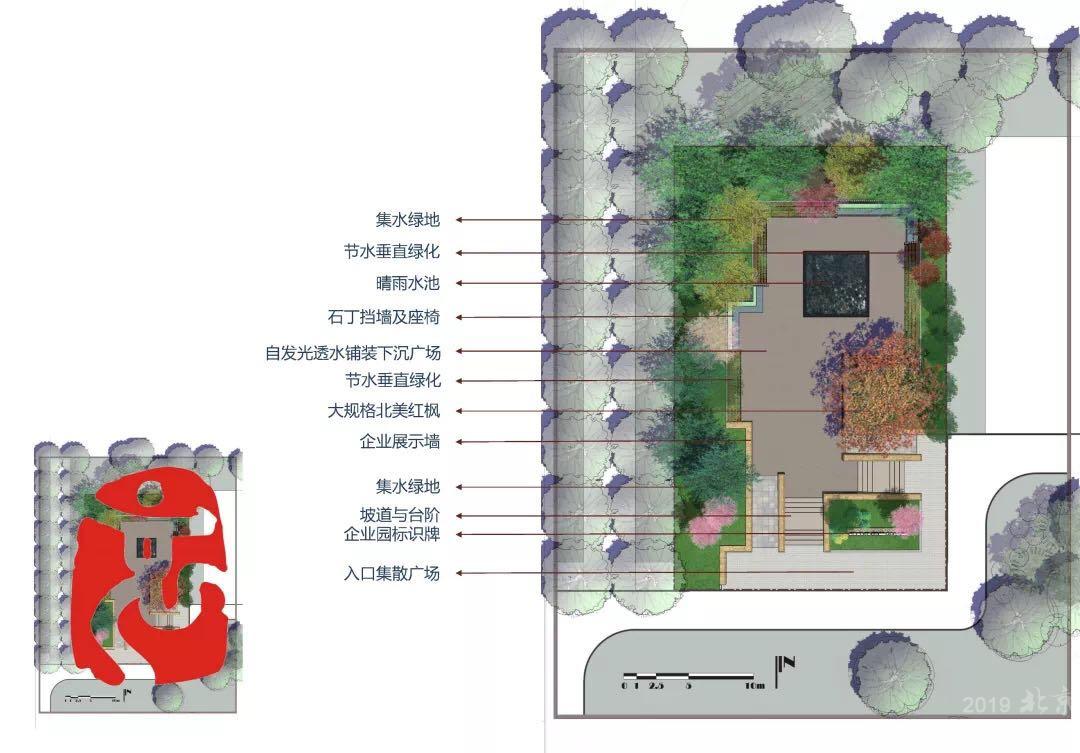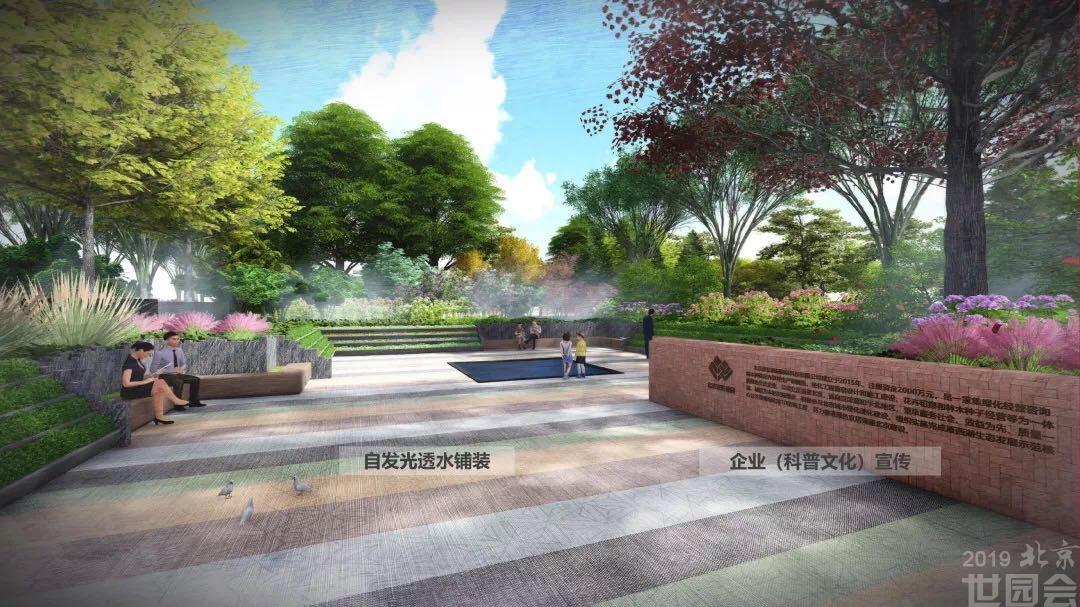 To conform to the goal of the Beijing Expo 2019 to create "a new horizon of world horticulture and a new model of ecological conservation," Jingcai Future Garden intends to showcase "high-standard horticulture of Jingcai and new trends of smart ecology" and create an excellent corporate garden themed on "Beijing's Exquisite Lifestyles and Colorful Gardens" by following the principle of "innovating gardening with science and technology and beautifying the environment with colors."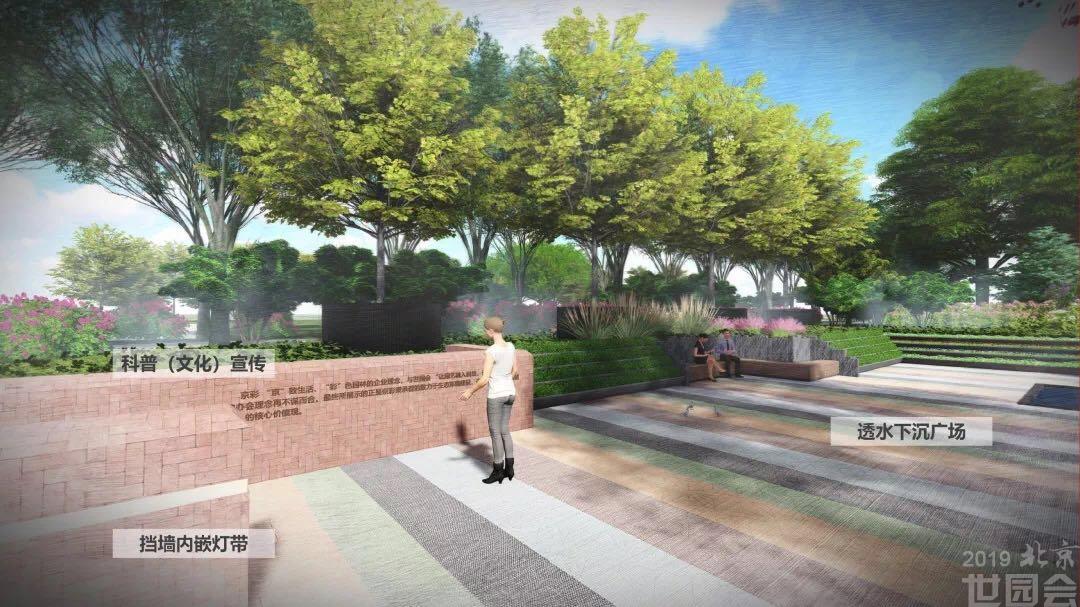 The colored LED sign at the south entrance to Jingcai Future Garden adds a sense of science and futurism to the garden. 
Walking along the stairs paved with eco-stones, one can reach a corporate culture demonstration wall laid with red eco-rocks and a bronze logo of Jingcai Yanyuan. Against the backdrop of horizontal vegetated spaces, large-size color-leaved container seedlings create a colorful painting with distinctive views in the four seasons.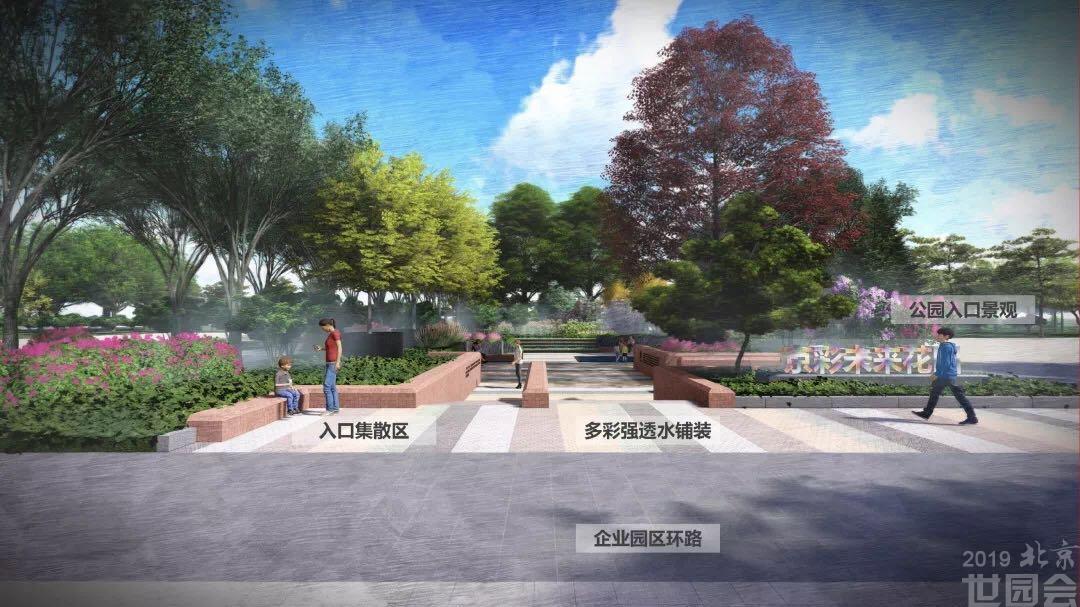 The main facility in the sunken square is the rainwater collection and utilization system, with a mirror-like pond at the heart. It uses the concept of Sponge City to increase rainwater utilization efficiency, demonstrating the values advocating energy conservation and environmental protection. 
The rainwater collection and utilization system combines natural means and artificial measures. While guaranteeing urban water drainage and flood prevention, it can maximally achieve the storage, penetration and purification of rainwater in urban areas and promote the utilization of rainwater resources and the protection of ecological environment.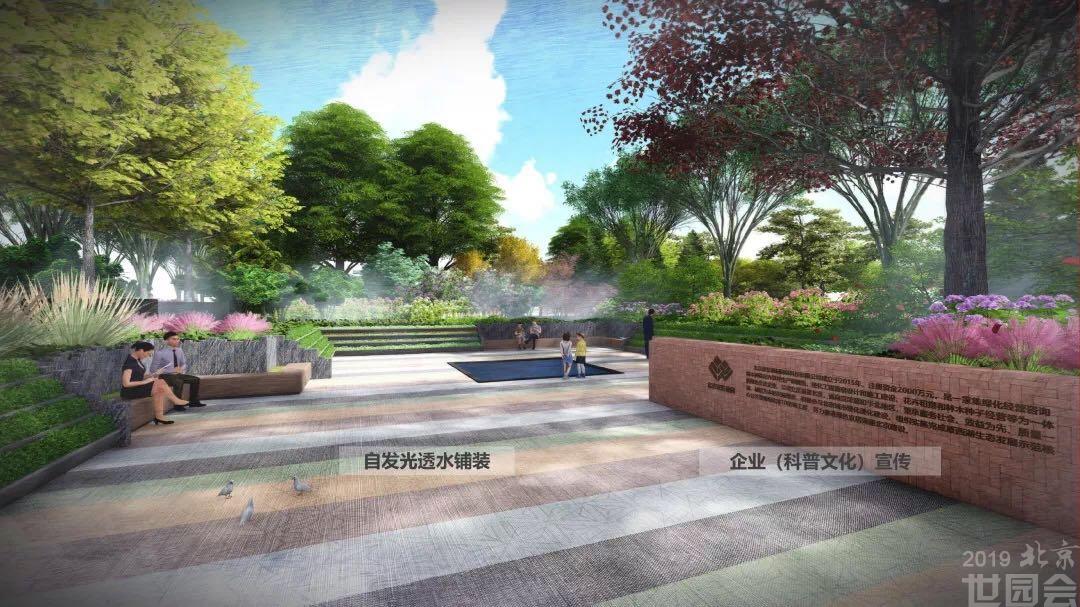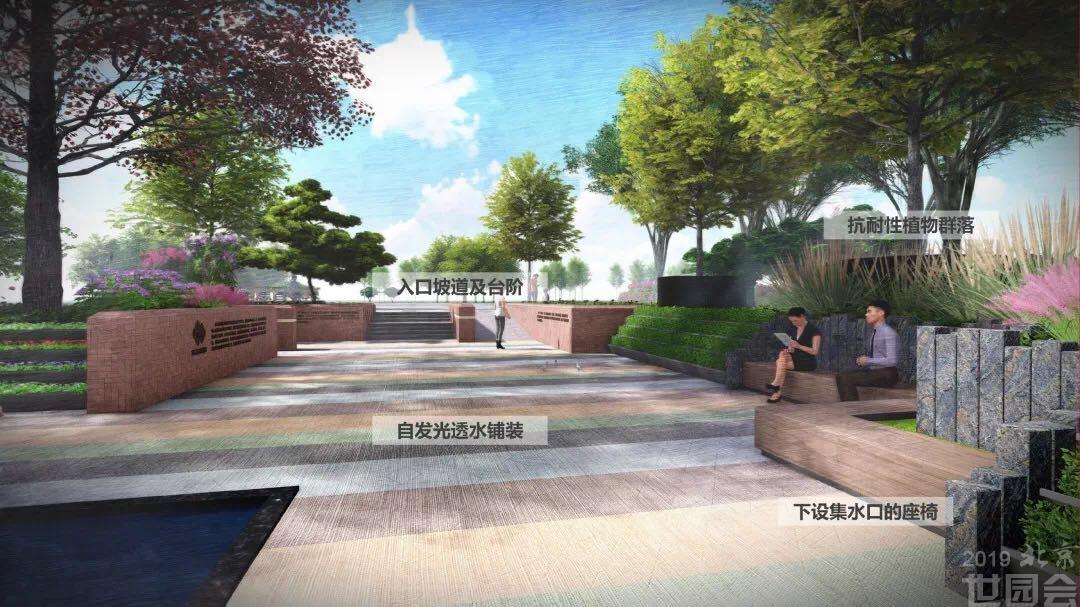 The ground of the sunken square is paved with tiles made of new-type ultra-permeable materials and self-luminescent tombarthite. Thus, it can not only efficiently collect rainwater but also emit natural light at night, so as to save electricity power and enrich night views. The views change in different parts of the garden, testifying to Jingcai Yanyuan's skillful design and exploration of future gardening technologies.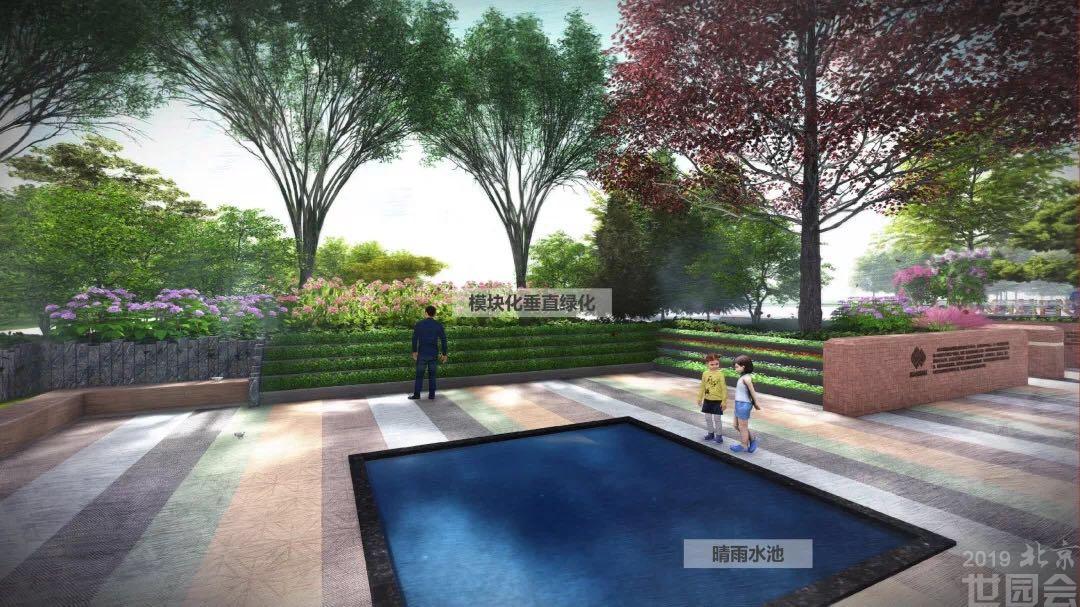 Relying on the top-quality large-size color-leaved container seedlings that meet the standards of being "indigenous," "long-lived," "stress-tolerant," "edible" and "eye-catching," the garden is characterized by innovation of market ecological landscaping. Jingcai Future Garden uses the rainwater collection and utilization system of Sponge City to provide water for irrigation and sightseeing, generates clean energy with solar power, replaces traditional stones with new-type environmentally friendly eco-rocks, and paves the ground with self-luminescent, ultra-permeable materials. In this way, it becomes a future-oriented garden integrating ecological friendliness, environmental protection, technological innovation, intelligence, colorization, and aromatization.
Jingcai Future Garden is a landscaping masterpiece that aligns with the theme and concept of Beijing Expo 2019 while comprehensively displaying the corporate philosophy and spirit of Jingcai Yanyuan. It adds a unique and attractive vista to Beijing Expo 2019, and will enables visitors to personally experience the charm of high-tech gardening, smart gardening, ecological gardening, and colorful gardening.